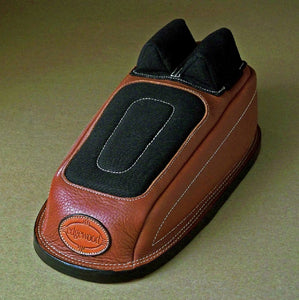 This is a long, heavy bag - about twice the length of the Original (6'' x 13") the ultimate in stability. Filled weight can easily top 25 lbs. depending on body height. It features a padded top for resting the trigger hand and includes the same choices of ear combination as the Original. The gater has a multi-layered all flat base.

Option: Sewing the ears onto the bag top with a slight twist kicks the front of the bag toward the hand for more handrest area. If you'd like your ears put on with a twist, please specify this in the comments section during checkout, and if you are right- or left-handed. There is no charge for this option.
All Edgewood products are hand made. Please allow 3-4 weeks for delivery.